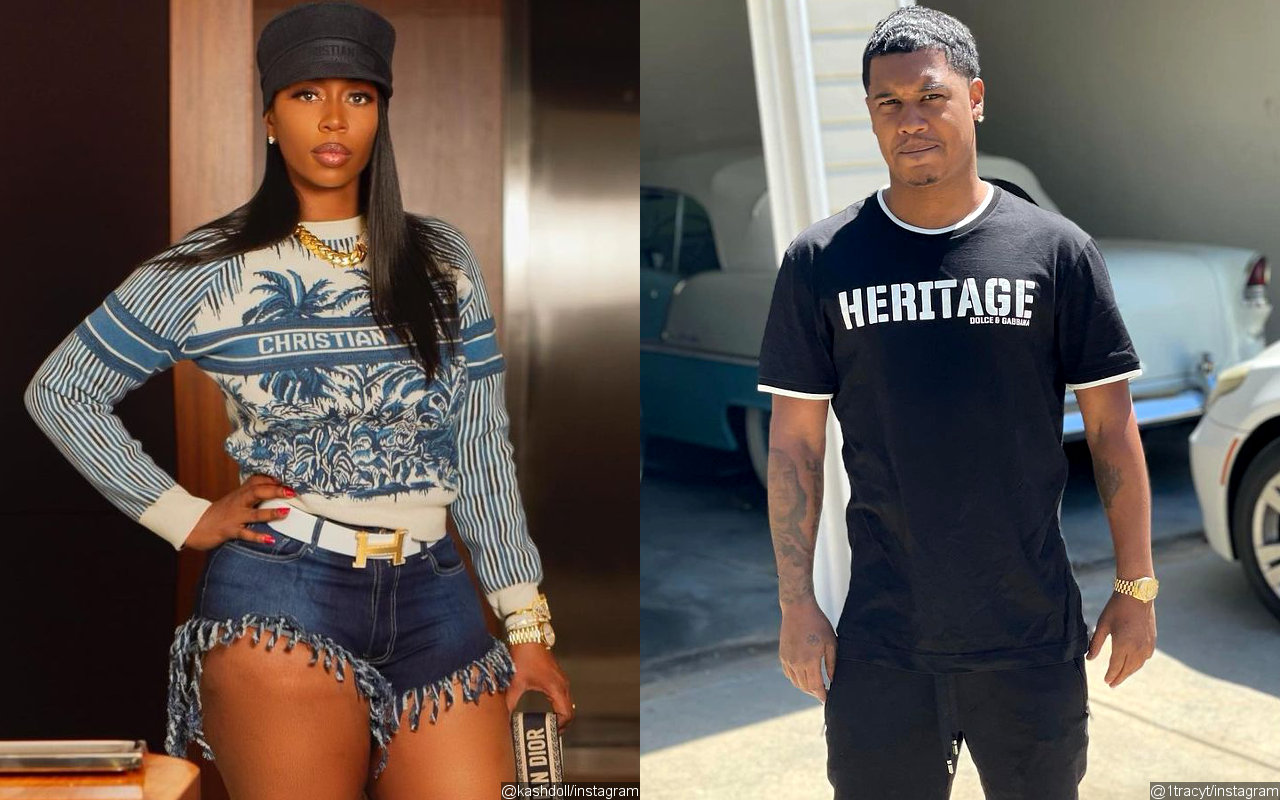 After Instagram user @gorgeouslee_ posted a series of bitter messages directed at the 'For Everybody' hitmaker and her man, the raptress has seemingly also responded with her cryptic tweets.
AceShowbiz – Kash Doll's boyfriend Tracy T has broken his silence on cheating allegation leveled at him. Several days after a woman, who claims to have had a relationship with the rapper, outed him for allegedly cheating on the raptress, he has declared his innocence.
Tracy, who is also known as Tracy Richardson, took to his Instagram Story on Sunday, June 6 to deny that he's ever being unfaithful to Kash. "I would never cheat on my girl," he wrote without naming names.
Days before, an Instagram user by the name @gorgeouslee_ posted a series of statements accusing Tracy of infidelity. She is believed to be Tracy's former girlfriend. In one of her Stories, the woman wrote, "U really think I'm mad about ur relationship that u have with my ex while he was still pursuing me!! Come on girl!! Be serious use that little uneducated brain of urs!! All y'all b***hes be dumb as f**k!"
"U got cheated on several times once in Miami and several times in Atlanta and the saga will continue. He's said plenty of things about u dummy that's what n***as do!!" the woman claimed. "Ur n***a give u whatever u want but u have to plan ur own dates? I'm confused! Ur so desperate and for u to be doing all this is sad!! If u so secure why u worried about me? Why are you calling me h**? Girl what have u got? That's a joke!!"
The woman went on calling out Kash, "U the only dummy b***h that see pictures of they n***a cheating and deny it!" She added in another post, "U are and will always be getting cheating on!! Ur a nobody and struggling artist and are f—! I didn't like about that!!"
@gorgeouslee_ also denied accusations that she is being a clout chaser and insisted, "I was never a side piece. That was my boyfriend of many years unfortunately!!"
Kash has remained largely silent, but she appeared to address the cheating allegation with some cryptic tweets. "No response is a response," she wrote in one of them. "If I ever find out my n***a cheating or cheated I'll get the f**k on… I ain't pressed."
Seemingly hitting back at the woman, the "Ice Me Out" raptress added in another post, "Lame a** b***h. Give a f**k bout a n***a. I got birkin bags b***h. And I pull triggasssss. Whatever the city girls said."
Next article
Yo Gotti Insists He Loves Chocolate Following Colorism Accusations Over 'Drop' Music Video