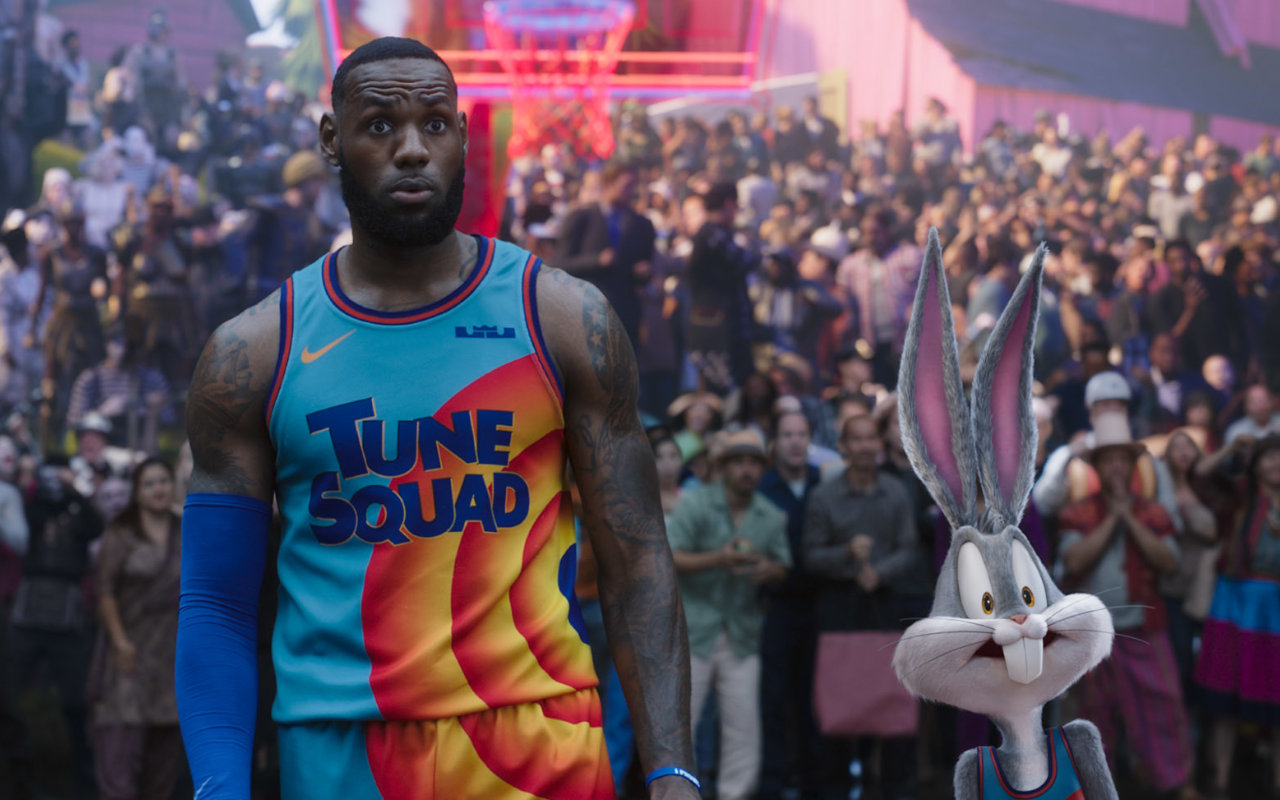 The live-action/animated movie featuring the basketball ace and the 'Looney Tunes' characters edges out Marvel's 'Black Widow' from the top seat on its debut weekend.
AceShowbiz –
LeBron James has had the last laugh with "Space Jam: A New Legacy" box office performance. Having faced critics ahead of its release, the movie has squashed all doubts after it debuts atop the box office in North America.
The standalone sequel to 1996's "Space Jam" brought in an estimated $32 million on its opening weekend, edging out "Black Widow" from the top seat. It was the best opening weekend by a Warner Bros. movie during the COVID-19 pandemic, besting "Godzilla vs. Kong" which opened to $31.6 million on its first three-day weekend.
Celebrating the box office feat, James tweeted on Saturday, July 17, "Hi Haters!" along with Deadline's article of the box office results. The L.A. Lakers star also retweeted director Malcolm D. Lee, who wrote, "Many thanks to the fans!!! We made this for you and reward us with your presence."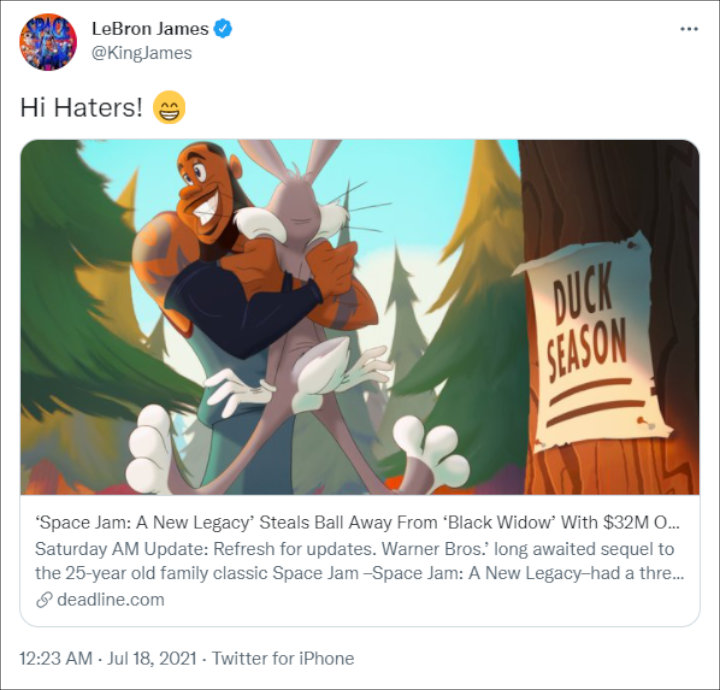 LeBron James taunts his haters.
Moviegoers' love for "Space Jam: A New Legacy" didn't come in line with critics' reviews of the movie. The live-action/animated movie featuring James and the "Looney Tunes" characters only holds an approval rating of 30% based on 139 reviews, with an average rating of 4.8/10. Audiences polled by CinemaScore, meanwhile, gave the film an average grade of "A-" on an A+ to F scale, the same as the first film.
Speaking of the rather unexpected win, Jeff Goldstein, Warner Bros. president of domestic distribution, said, "The marketing on this movie really looked fun, and it helped alert audiences everywhere."
David A. Gross, who runs the movie consulting firm Franchise Entertainment Research, also opined, "This weekend is a positive indication that the family audience is alive, well and, according to 'Space Jam 2's' enthusiastic audience scores, still thrilled by the big screen."
"Space Jam: A New Legacy" triumphant debut pushes "Black Widow" to the second place this week with an estimated addition of $26.3 million. The Scarlett Johansson-starring film has generated $131 million in North America and $264 million globally.
Another new release, Sony's "Escape Room: Tournament of Champions", comes in third with an estimated $8.8 million. "F9" trails behind at fourth with approximately $7.6 million, followed by "The Boss Baby: Family Business" which plunges two places to the fifth spot with an estimated $4.7 million.
Top 10 of North America Box Office (Jul. 16-18, 2021):
"Space Jam: A New Legacy" – $31.6 million
"Black Widow" – $26.3 million
"Escape Room: Tournament of Champions" – $8.8 million
"F9" – $7.6 million
"The Boss Baby: Family Business" – $4.7 million
"The Forever Purge" – $4.2 million
"A Quiet Place Part II" – $2.3 million
"Roadrunner: A Film About Anthony Bourdain" – $1.9 million
"Cruella" – $1.1 million
"Pig" – $945,000